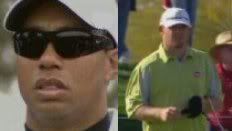 Tiger Woods and JB Holmes donned some atypical apparel during their clutch performances this weekend. Tiger's glasses, although somewhat badass, are reminiscent of over-glasses typically worn by slowly driving senior citizens. Tiger wore the glasses mostly for protection against the blowing sand, and removed them prior to hitting each shot.
JB Holmes is one of the only notable players you'll ever see wearing a black glove. After making Mickelson look like less of a man in the playoff at the FBR Open, Holmes said, "I don't want to be some kind of fairy dinking it out there and prancing around in my white glove. I hit it long, and I wear a black glove even if after the round, it looks like someone shit on my hand." Ok... JB really didn't say any of that, but it would have been funny if he did.
With all the outfit coordination these days, it's surprising the black glove isn't more popular. But then again, Tiger doesn't wear one, so it's not that surprising after all.