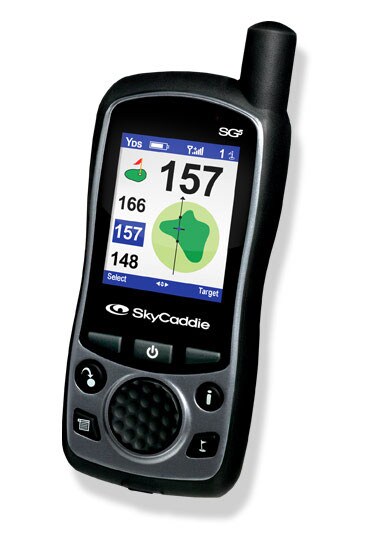 The Blazer has got a piece of advice to anyone in the market for a rangefinder (who isn't a complete hack): Get Your Gunz
!
SKYCADDIE FEATURES:
+/- 15 yards -

Although they say +/- 1 yard, two people with the same device standing on the same spot, often get completely different yardages.



Precision not necessary

- Who wants distance to the pin, when you can have it to the center of the green?



The gift that keeps on giving you bills

- Not only do you have to pay to upload new courses (assuming they have the course you want), you have to pay a yearly subscription fee also.



Overwhelming least favorite among tour caddies and top amateurs

- Rangefinders are now allowed in almost every tournament outside of a major tour. Most professionals use rangefinders outside of competition, and every caddy carries one during practice rounds. With that said, you will never see a tour caddy or top amateur using a SkyCaddie.
The Bushnell Pinseeker 1500 Tournament Edition is the most widely used. It retails for $400. Don't buy the slope edition; it's illegal for tournament play and kind of stupid. A good alternative is the Bushnell Medalist. It's smaller and lighter and retails for $300. The only real difference between the Medalist and the 1500 is the magnification is less on the medalist, but they work pretty much the same.

THERE'S YOUR BAD BOYS:
A product from Bushnell is your best bet.
Nikon/Callaway are also good, but no need to buy a Callaway product when you don't have to. It's probably best to stay away from LaserLink. Most models only work if the flagstick has a reflector. Not only that, but you will look and feel gay when shooting your yardage.
LIMP WRISTED:
Yes he does feel gay shooting yardage with a Laserlink.
Note: If you're a bro with little cash reserves, losing your gun can be devastating. You should help to reduce the risk by putting a label on it with your name and phone number. You might also want to put a brightly colored sticker on it so it stands out in the shadows of the golf car's front compartments. The chance of losing your rangefinder goes up dramatically after smoking the greens. Which is why you might want to take some advice from the title of The Blazer's next post ...